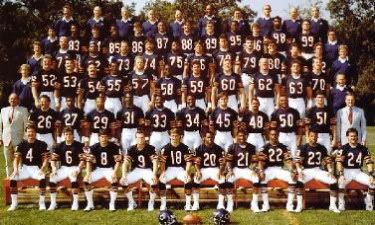 I apologize to anyone who popped in today to read and/or listen to some actual music, but the
Bears
played so great last night I can't believe it. I know it's only 4 games into the season and I shouldn't be thinking about the Super Bowl, and yet that's exactly where my head is. So, for your listening (and viewing) pleasure, here is the cockiest football team in the history of the NFL, the 1985 Chicago Bears with a little ditty they like to call,
The Super Bowl Shuffle
. They actually made this video BEFORE the Super Bowl. Also, I love that they let Steve Fuller (their backup QB) have a verse. At least Kyle Orton has that going for him.
Super Bowl Shuffle